Prelude
As the baby boomer generation population decrease, the Gen-X collectors are stepping into the market. There may be fewer collectors of high end cars with expensive price tags, so younger car collectors are entering the market and snapping up lower cost name plates like the classic Land Rover Defender, Range Rover HSE, Toyota Supra and Datsun models. With the help of the internet Gen-X collectors have more resources to enable more accurate restorations by adding finishing touches like a year of manufacture license plate so the restored vehicle looks classic. Car collecting is similar to art collecting – one who invests in their favorite art can reap huge profits if the art increases in price. The same scenario applies to car collectors – a well restored automobile can turn a good profit. However, like art collecting, there are downsides to car collecting.
A Car Collector's Dream – The BULLITT MUSTANG
Back in 1974, Robert Kiernan saw an ad in Road & Track magazine:
The BULLITT Mustang was purchased for $6500 and was driven on a daily commute until 1980 when the clutch gave out. In the late 1970's, actor Steve McQueen contacted the Kiernans' and explained he was the driver of this Mustang in the movie Bullitt and would like to exchange this car for a similar car. Steve McQueen's plea went unanswered. Fast forward to January 10, 2020 in Kissimmee, Florida: Mecum Auction House sold the Kiernan's Highland Green 1968 Ford Mustang GT for $3.74 million. A warning to car collectors: This story is an exception – most collector cars are not famous, so it is imperative prospective car collectors do some homework or research.
The Main Reason the Bullitt Mustang is Famous
The 1968 Ford Mustang Fastback aka Bullitt '559 was the first "Hero Car" featured in Hollywood movies where the car chase for the movie Bullitt was shot on the streets of San Francisco rather than in a Warner Bros. Studios backlot. The lead actor, Steve McQueen, was also at the height of his popularity and drove the Bullitt Mustang in many of the scenes. The Bullitt Car chase is classic and revered to be the best in cinema because it was filmed without any special effects. The license plate of the car was a 1963 era California in colors yellow on black. This license plate on the Bullitt Mustang has also become an iconic item: JJZ 109. Most folks cannot afford the car, and purchase a replica of the license plate instead. Unfortunately, a well restored 1968 Ford Mustang Fastback without the pedigree of being in a hit movie and driven by the famous actor Steve McQueen will fetch far less – between $45,000 – $95,000 depending on originality and quality of restoration. Many car collectors are paying top dollar for classic cars in good original condition with no restoration! Adding the original license plate to these collector cars increase buyer attention at auctions. Back in August 2014, a Ferrari GTO with the year of manufacture license plates mounted sold for $38,115,000 at a Bonhams Auction in Carmel California.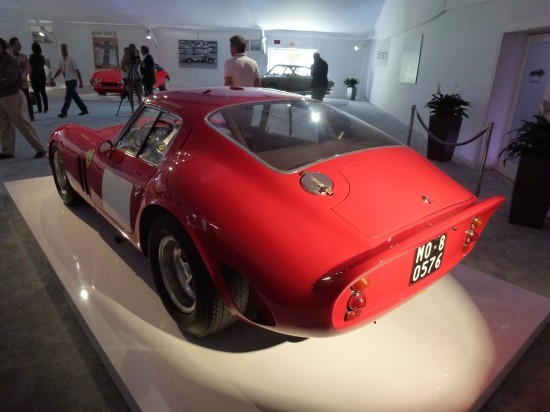 Two years after the release of Bullitt, 20th Century Fox released the cult classic, Vanishing Point starring Barry Newman featuring Hero Car, a 1970 Dodge Challenger R/T. Again, the 1970 Colorado license plate featured in the movie became nearly as famous as the car. Most movie buffs or car collectors purchase a replica of this iconic license plate as a memoir from the movie Vanishing Point.
Car Collectors and Investors should Intensely Research before Purchase
Like the art world, the car collecting world is rife with sellers overstating the pedigree of their stable of cars. The fine art market was rocked when several buyers sued auction houses for selling fake art. Unlike collector cars, art does not come with vehicle Identification Numbers (VIN) and Original documents showing registration. This means car collectors have a better safety net with their purchases. Tracking cars by VIN and using state Department of Motor Vehicle (DMV) records is a must for every collector. Usually famous cars used in movies, TV shows or owned by famous people are easy to verify, so in-depth research is easier for collector cars than fine art. In the art world, some art experts are fooled or deliberately authenticate items. Usually information in DMV records will also disclose the original license plate number of a particular car. Collectors can order authentic look embossed year of manufacture license plates from www.licenseplates.tv
Types of Classic Car Collectors
Love and Nostalgia are probably the main reasons why people get into Classic Car collecting. Every person has an ideal car they would like to drive as soon as they get a driver license. Unfortunately, limited funds will keep these new drivers away from a Camaro, BMW, Mustang, Supra or Mercedes. If their love for cars persist or grows, these people become car collectors as soon as they earn enough funds. They would purchase cars which are restored or they will embark on restoring these cars. These are the folks who will tend to drive their new acquired dream cars daily or on weekends.
Investment Car Collectors is a result mostly of people who love cars and were lucky enough to select models which turned out to be good investments. Very few people go into car collecting as a pure investment strategy. They want to purchase cars which have the potential to make them some good money while enjoying ownership. Out of love for cars many car collectors have created huge portfolios of this asset class worth millions or tens of millions. Many car collectors troll car shows looking for distressed sellers or cars they would like to purchase.
Owning collector Cars have Ownership Costs and here is list of costs associated with owning collector cars:
Insurance Cost
Garage Cost – some are heated and cooled to preserve collection
Security Costs – especially for high valued cars
Maintenance Costs – battery, oil changes, oil leaks etc.
Restoration Costs – can be hundreds of thousands for some high valued cars
Famous Car Collectors
Jay Leno
Ralph Lauren
Eric Clapton
Lewis Hamilton
DJ Khaled
Simon Cowell
How To Start Collecting Cars by attending car shows in your hometown or nearby areas. There are thousands of car shows across the USA each year especially starting in early spring. In Florida, California and Arizona, car shows are held throughout the year. However other places to find collector cars for sale are:
Find someone trusted to guise you because this market can be quite harrowing and avoid "sight unseen" purchases – at least in the beginning. Study market values to get the offer prices and compare to actual sale prices. Remember that cars sold at auctions will have a seller or buyer premium around 10%.
No article about famous movie cars can be published without mentioning the first hero car in a move where the car itself and license plate have become Global Icons.  This is the 1964 Aston Martin DB5 first used in the 007 Classic Goldfinger and appeared in Thunderball and several other Bond movies.  This car was 'believable" because it was a vehicle one with lots of cash back in 1964 could actually purchase.  Unlike Sci-Fi movies, James Bond movies were popular because the events could actually happen in the real world to some extent.  This 1964 Aston Martin James Bond car with special effects is a show stopper and has made appearances in newer James Bond films like Skyfall.   There are many auto enthusiasts and car collectors who may not be able to afford the 1964 Aston Martin DB5, but they can afford The classic silver on black British license plate which adorned this car in the James Bond movies and turn to online store www.licenseplates.tv to manufacture this plate number: BMT 216A