The purpose of a license plate is to provide an accurate identity of a vehicle and the owner of vehicle at all times.  Other names used for license plate include: Car tag, Number Plate (United Kingdom), Tag, Vehicle license plate and vehicle registration plate.  New York was the first state to mandate license plates on motor vehicles back in 1901 followed by Massachusetts in 1903.  These first license plates were made of Porcelain.  This means the letters and numbers on early license plates were baked on and flat.  Delaware still allows the use of Porcelain license plates.
States and Pre-states (United States Territories)  in the mid-west and west commonly used leather to manufacture early license plates.  However, leather did not do very well due to the terrible roads in early America.  Lots of mud, rain and snow caused leather to disintegrate, so the leather license plate was discontinued.   Here are some examples of license plates made of leather: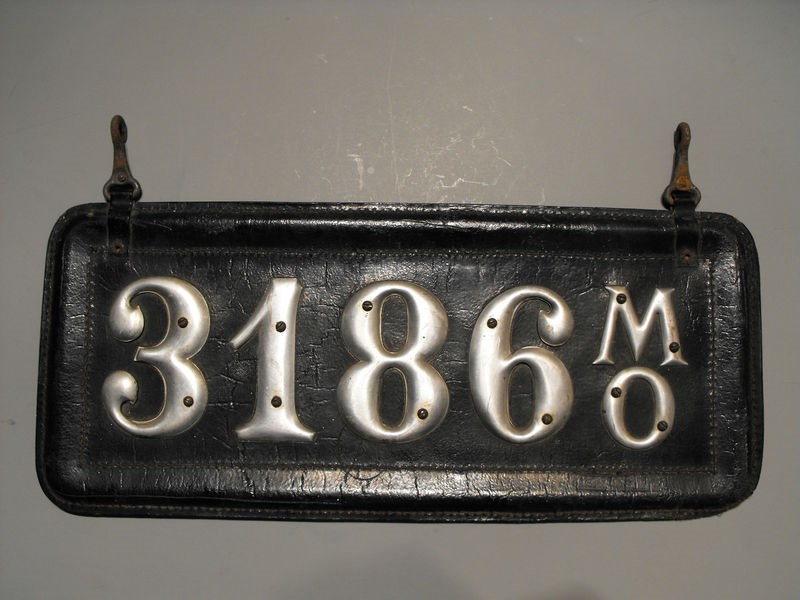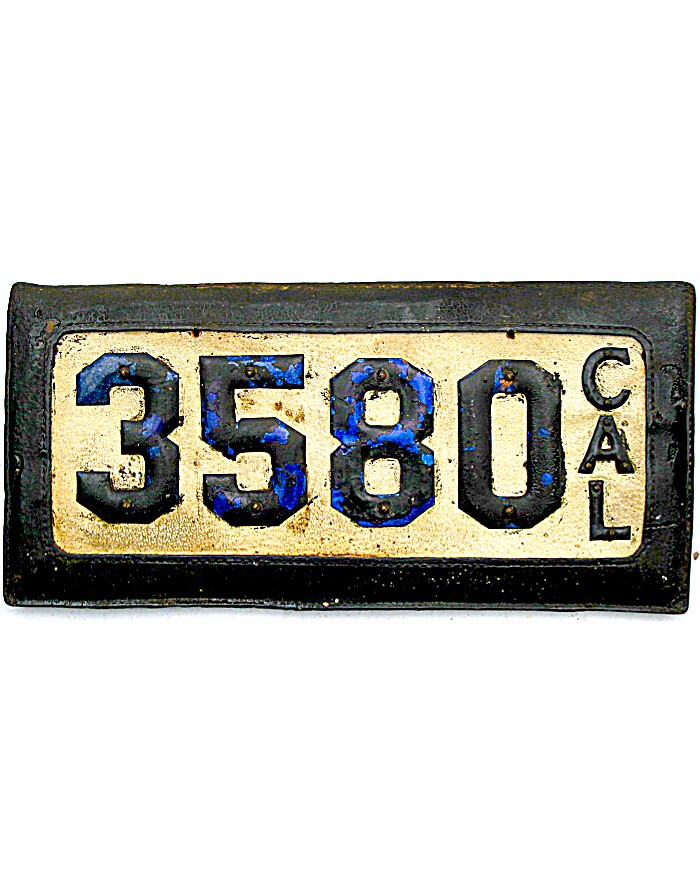 Steel license plates soon began replacing Porcelain and leather license plates. At first the license plate number was painted on and later when state governments began to issue motor vehilce license plates in state prisons, license plate numbers were embossed on steel for a 3D effect which is difficult to replicate. The process to manufacture license plates with steel is tedious and prison labor was a cheap resource. Steel for license plates sold to state prison was poor in quality and oxidizeed quickly. Here are the steps in manufacturing;
Steel from manufacturer was cleaned and blanked into the plate sizes
Each license plate was further cleaned by sanding and de-greasing then embossed (stamped with number and state name, expiration date etc.)
Embossed plates were again sanded, cleaned to be grime-free, dried then painted on both sides
Each license plate was then was passed through a painter which applied paint on the embossed or stamped numbers, letters and border
A steel license plate was generally issued for 12 months because oxidization usually caused plate unusable after 12 months. For this reason, each plate was issued with the year of expiration embossed. Aluminum replaced steel and by the late 1960's. Some Aluminum manufacturers were able to apply a polyester coating of the plate color requested by each state. This reduced the labor and time required to produce license plates.
In 1936, Mexico added beads to the paint which coated the embossed numbers and letters.  This created a mild reflective attribute to the license plate.    The states of Connecticut and Maine implemented reflective numbers in 1948. It was not until the late 1956 when  3M invented retro-reflective sheeting to cover aluminum substrates used in the manufacture of license plates.    Minnesota (the home of 3M) was the fisrt state  to use retro-refllecftive sheeting to manufacture its license plates in 1956.   However, because retro-reflective lciense plates could be used for many years (no oxidation), Minnesota issued tabs to be applied on the 1956 Minnesota license plates with 57 expiration for rthe year 1957.   Germany did not mandate retro-reflectyive license plates until July 1989!
Attributes of License Plate Reading Distance
Plate reading distance increased by reflectorization as follows: Legibility Target Car Improvement Rear plates, plate lights on 30% Rear plates, plate lights off 90% Front plates, low beams on 150% according to AAMVA (American Association of Motor vehicle Administrators).
Apart from the safety features of license plates manufactured with retro-reflective sheeting and the money saved from using plates for multi-year periods (first guaranteed for 2 years and now license plates can last as long as 10 years), states began screen-printing various designs on license plates unique to each state.  In 1928, Idaho screen on a potato on its painted steel license plates becoming the first state to use graphics of their license plates.
Today, virtually every state has graphics on their license plates representing professional sport teams, colelge reams, universituies, civic organizations and many more themes.  Texas is approaching 600 different design of license plates.  Law enforcement lament these myraid of designs because it makes their work more tedious.  3M has invented a system where any design can be printed on a license plate with a state issued numer or a custom number selected by vehicle owner.  These are the flat lciense plates and again because these plate numbers are NOT embossed, they become easier to counterfeit by anyone with a printer capable if printing on vimyl.   Texas has acquired this 3M system together with Alabama, Minnesota, Iowa, New Jersey and a few more.
Here are a few flat Texas state issued license plates for legal use: